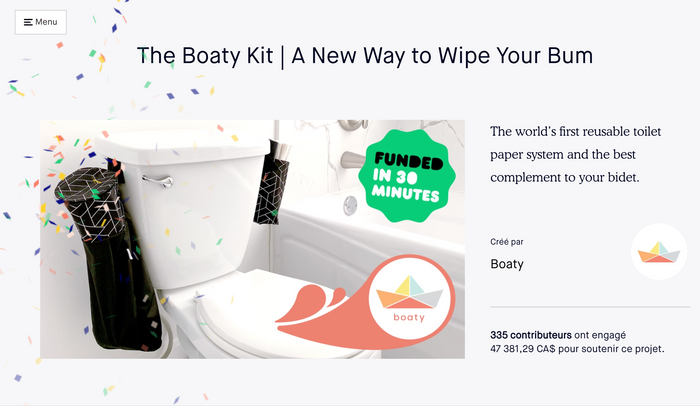 Our big goal for 2022 was to bring one of our idea (our super cool reusable toilet paper kits) to the US market through the Kickstarter platform.
The Kickstarter is now over and we must say we learned a lot of things throughout the campaign! We have experienced ups and downs, we made some nice moves and some mistakes.
The biggest mistake we made was that we wanted to ship quickly (we hate Kickstarters that ship one year later) AND we were afraid of having to sew thousands of kits in a very short time if the campaign was over-successful.. so we began production *before* getting the money that we raised, causing a big hole in our budget to make our Kickstarter sales go crazy.
Also, we could have been more prepared. We took the decision of going on Kickstarter at the end of 2021 and we launched Boaty (the English name of Bateau bateau) for the English market in 2022. We had a great success given the small amount of time we had to launch everything.
Finally advertising on Facebook was pretty hard at one point in our mid-campaign. We noticed that Facebook ads have their limit at some point, so we had to rethink our marketing. We tried to do other types of publications, go on other social medias (make some reels, TikTok). We also wrote a press release that we sent to some web medias and got 0 return. We were probably way too last minute (in the middle of the campaign).
We tried extremely targeted ads on Reddit that were saving us from the poor Facebook results. The feedback was mostly positive on Reddit, so that was pretty cool. At the very end of the campaign, we tested our Facebook ad in other countries and we saw slightly more positive results. Not necessarily more sales, but we could see that the ads were working (full of clicks) so there was interest.
Also, one great thing we learned (very quickly) is how to define ourselves in this new market and how to reach people in the US. This will be useful forever!
Overall, our biggest success is that we made it!!!
Boaty was born!
Beyond the amount raised, our goal was to put Boaty on the map and we wanted our reusable toilet paper kit to be perceived as a "real" product and not a JOKE. With 335 backers, we have shown that The Boaty Kit is a great product that interests a lot of people.
There is still a long way to go in this new market. It took us 2-4 years to build our strong community in Quebec with Bateau bateau. We're starting from zero with Boaty, but we know we're on the right track to make it grow.
Thanks to all of our backers for that!
Our campaign started on May 31, 2022 for VIPs.
We raised our basic goal of $6000 in 30 minutes (thanks to 182 backers).
Our campaign ended on July 5, 2022 at noon: it lasted 35 days.
We raised $47,381.
We received the support of 335 people: 227 Canadians, 83 Americans, 12 international backers and 13 persons who were not ready for "this", but backed to plant a tree.
 We will plant 335 trees via Carbone Boréal.
Our funny video has been viewed over 100,000 times across all medias, including 3,585 times on Kickstarter.